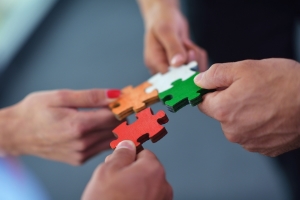 Our customers count on us to be a reliable supplier, provide exceptional customer service and solve physical problems. While we have always strived to meet these expectations, our adherence to 4 ancient principles allows us to better serve you. Business and martial arts may seem entirely unrelated, however the 4 virtues of Baguazhang offer valuable lessons that can be applied to the workplace.

I was given the opportunity to attend a Baguazhang martial arts retreat where I learned about team building. Traditional Baguazhang believes in 4 virtues which can be used to harbor effective group relationships. These virtues are honesty, humility, patience and sincerity.

I spent 4 weeks with my management team discussing how the four principles could positively affect the workplace environment. Once these were implemented here at Centerline Technologies I noted many changes in the way my team interacts with one another. I also noticed an impact on our ability to meet or exceed our customer's demands. Let's explore how each virtue contributed to this final result.
1) Honesty to myself and others at all times
Blaming a co-worker or an outside factor is a natural reaction when a problem occurs. Rather than finding the most convincing scapegoat, we are honest with ourselves. Might the issue have been averted had we communicated better or double checked the procedure or process?
We acknowledge that people make mistakes. Understanding the root of the problem is the first step in finding a solution. Properly evaluating the cause will help prevent it from happening again. This allows us to focus our time on solving your problems.
2) Humility to all in thoughts, words and deeds
The human ego plays a major role in communication and problem solving. Fostering an open environment is important for collaboration. Making use of constructive rather than destructive criticism encourages workers to seek help and advice. A team that avoids labeling people as either "right" or "wrong" and accepts mistakes as learning opportunities will be more effective. When group members fully support their colleagues it will be safe to learn, grow and innovate.
Having and instilling the quality of humility means that we will be working as a team to be more efficient and more innovative keeping your needs in mind.
3) Patience I put the needs of others before my own
People often have ideas in their heads of how a situation should play out. This ideal solution may be easier to achieve for some people than for others. It is important to allow everyone time to learn and adapt to the situation.
Being patient with colleagues helps them grow into a more skillful team member. This tolerance and understanding between co-workers leads to a stronger group and inevitably a more stable company. At Centerline, employees work together to be a continuously growing team to meet the changing needs of our customers.
4) Sincerity is the foundation of my every action
A team with a genuine desire to reach a solution will work through the challenge thoroughly and without haste. Not only will the overall quality of work be superior, but the workers will walk away with personal satisfaction.
As sincere members of the Centerline Technologies team, our employees take great pride in producing the highest quality products for you, our customer.
Adding these principles has strengthened our team as a whole, allowing us to provide a world class resource to develop sophisticated manufacturing processes.
to use this team for your precision lapping, polishing or other ceramic finishing needs. Find information on our capabilities here.